SafeSurf shows you security indicators in the omnibar for post-EV safer surfing.
SafeSurf shows you security indicators in the omnibar for post-EV safer surfing. The extension was developed for our own team members to have an easy way of checking whether or not a site belongs to us or not. After a couple of weeks, SafeSurf was quickly updated to check for EV certificates , Google Safe Browsing , and our evolving algorithm to determine the authenticity of a website. Also, it's free!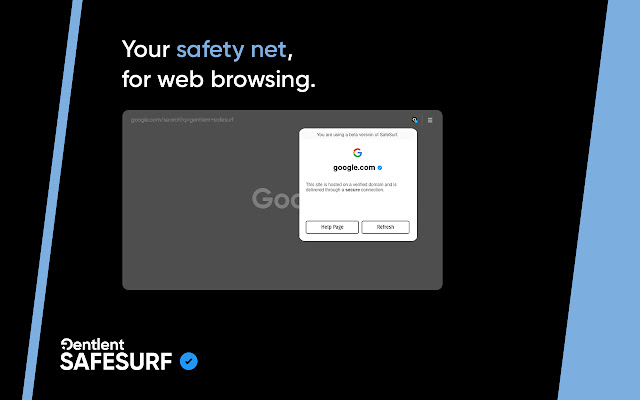 Your safety net, for web browsing.
Check right in your browser's top bar if the site you are visiting is verified to be confident when entering your personal data.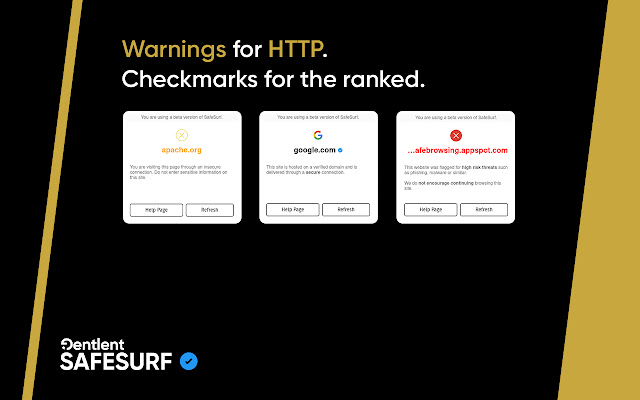 Warnings for http://, checkmarks for the ranked.
The industry is slowly deprecating http:// in favor for
 https:, so we decided to take the chance and show warnings for unsecured connections by default.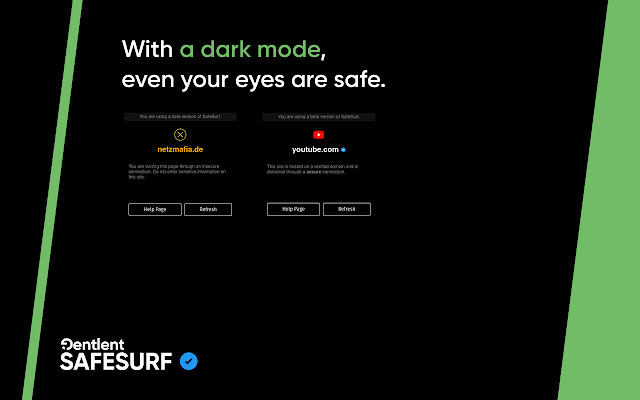 With a dark mode, even your eyes are safe.
You're up late at night? We've got your back and introduced a dark mode that can be turned on easily from your browser extension's settings.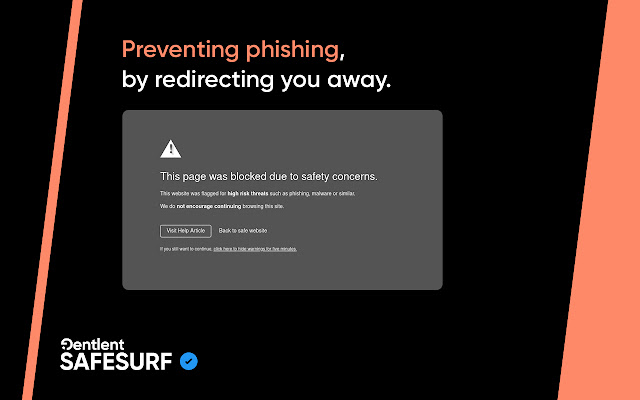 Preventing phishing, by redirecting you away.
Some websites try to trick you into scams, malware, or phishing attacks. SafeSurf is able to flag those sites and redirect you away to a safe warning page.
---
FAQ
Is SafeSurf available for my browser?
Gentlent SafeSurf is currently available through the Google Chrome Webstore and the Firefox Add-on Store and can be used with all browsers that support either of them, such as Google Chrome/Chromium, Firefox, Opera, and more.
Can I use SafeSurf on my phone?
Not yet. We've got some ideas to bring SafeSurf to mobile devices in the future, but there is not ETA yet.
What data does SafeSurf store?
Gentlent doesn't store any data that is sent to our servers as part of the domain scans. Your currently visited domain or URL is sent to our servers to perform a database lookup and a threat scan. We do not store any of your personal identifiable data, nor do we store any kind of logs.
As of version 1.5.0+, SafeSurf supports a privacy mode that deactivates realtime scans and provides 100% privacy by only sending portions of the domain hashes to our servers, therefore eliminating any possibilities to track your domain history.
Can I embed SafeSurf into my own products/services?
Yes, you can! Through our Gentlent SafeSurf API , you can implement SafeSurf within your own products. We kindly ask to mention the use of SafeSurf and to let us know that you use our API for your products, so we can notify you on any breaking changes.
We used the SafeSurf API ourselves, to build a smart redirect over at link.gentlent.com .
Is SafeSurf free?
Yes. SafeSurf is free and will continue to be free forever. We will support SafeSurf as part of an continuous effort to keep our team and our customers safe. SafeSurf gets better by checking domains when opened and making the results available for others visiting this site.
An official Gentlent website. Official Gentlent websites are always linked from our website gentlent.com , or contain an extended validated certificate.